Clear Title Launches New Builder Services Division 
Phoenix, Az. (June 23, 2021) Clear Title Agency of Arizona, a leader in commercial and residential title and escrow services, continues fast paced growth by launching a new builder services division of the company.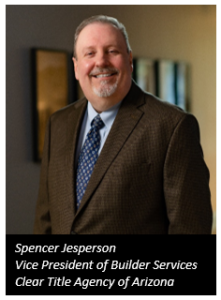 The new division strategically positions the locally owned company to better service a growing demand from already established and new builder clients in Arizona.
In conjunction with the launch of the new division the company has hired to lead the initiative. Spencer Jesperson joined Clear Title Agency of Arizona to serve as Vice President of Builder Services. Spencer brings a deep background of knowledge and expertise in this arena having spent the last 18 years servicing title and escrow needs for builders in Arizona.
"We are thrilled to have Spencer join our Clear Title Family. His addition brings with it a wealth of knowledge about the builder market including relationships with developers and the community at large" said Bart Patterson, CEO and Founder of Clear Title.
The builder services division will operate out of the company's headquarters located at 2901 E. Camelback Road, in Phoenix, Arizona.
"This new division of our Company is one we have contemplated for quite some time. With the current status of the market and robust future for new home construction in our state, we believe there are major opportunities for growth in this category of our business" Patterson said.
As the company grows, they remain committed to supporting organizations that help improve quality of life in the local community. Clear Title's recent community investments include philanthropic board leadership and financial donations to the Boys & Girls Clubs of the Valley, Child Crisis Centers, Habitat for Humanity and the Valleywise Health Foundation.
"Our ability to positively impact and contribute philanthropically to the communities where we do business is a key value within our Company. And, we look forward to giving back to Arizona in the years ahead" Patterson said.
ABOUT CLEAR TITLE
Locally owned and operated, Clear Title Agency of Arizona provides full-service residential and commercial title and escrow services with multiple locations across the Valley and in Flagstaff. The company has been recognized by Inc. 5000 Fastest Growing Companies and Phoenix Business Journal's Best Places to Work numerous times and ranks in the top 1% of all First American agents nationally. For more information, visit www.cleartitleaz.com.