Clear Title of Arizona is pleased to provide its clients with the Clear Connections Monthly Market Update. This report will provide you with the latest real estate trends.
Our business is built around the concept of educating and providing the personal service that Real Estate Agents and Lenders have come to depend upon. We want to provide accurate data to our clients, associates and friends. It is intended to keep you informed on critical market trends that affect our businesses.
SINGLE FAMILY HOME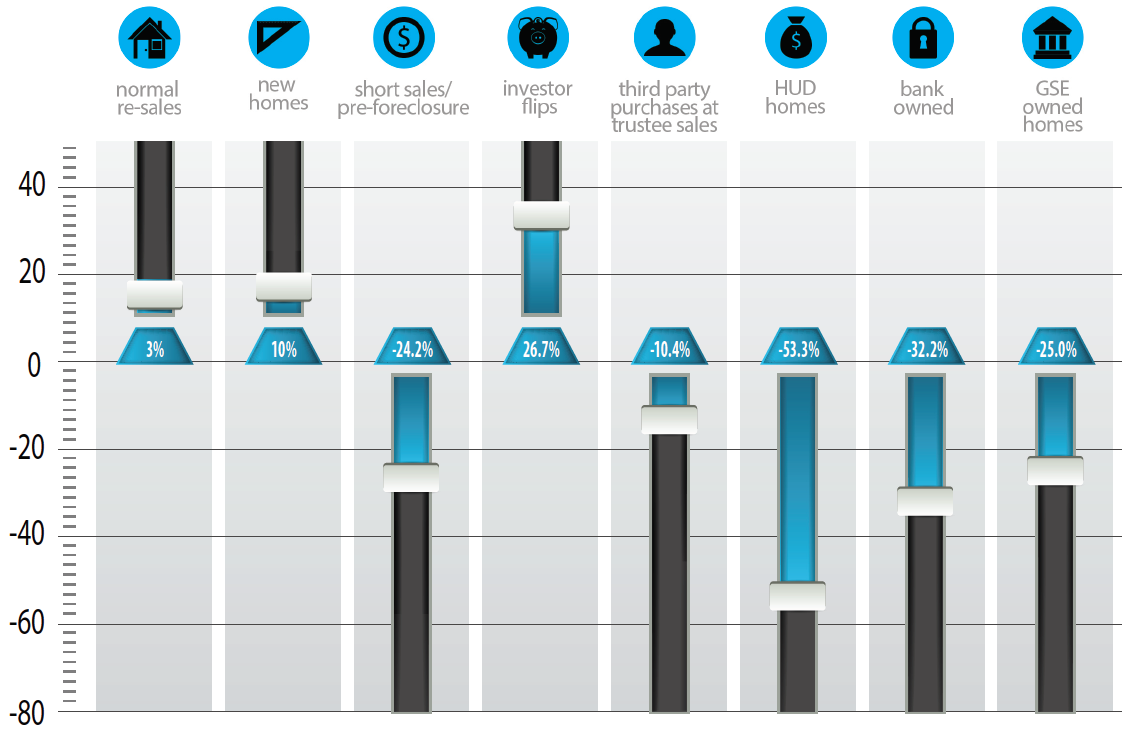 In March 2018, single family home sales increased year over year in three sectors, with investor flips growing fastest.
Normal re-sales (up 3%)
Investor flips (up 27%)
New homes (up 10%)
Because of lower distress levels, single family home sales decreased year over year in the remaining sectors:
GSE – Fannie Mae, Freddie Mac, etc. (down 25%)
Bank owned homes (down 32%)
Third party purchases at trustee sales (down 10%)
Short sales / pre-foreclosures (down 24%)
HUD homes (down 53%)
March 2018 had 22 working days, one fewer than March 2017, which helps explain the relatively small increase in normal re-sales. Investor flips are the fastest growing transaction type. This is partly due to the increasing activity of iBuyers such as Opendoor and OfferPad. The first part of their process usually results in a normal re-sale but the second stage counts as an investor flip unless it takes longer than 6 months to re-sell the property.
Because of rising prices, the change in total dollars spent on homes was even more favorable than the change in the unit count.
Total dollars spent on single family homes rose by 13% over March 2017.
Total dollars spent on townhouses & condos rose by 24% over March 2017.
The swing in favor of attached homes that failed to show up in January and February came back again in March.
During March, average single-family pricing moved significantly higher than February, reading $329,801, up from $321,853 last month and up 8.8% from $303,199 in March 2017. Average new single family home prices during March were only 4.2% higher than last year at $382,336, but this was mainly because of a 3.1% drop in average new home size.
MEDIAN SALES PRICE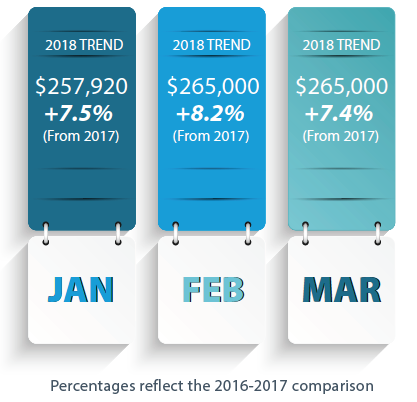 The median sales price rose 7.4% from $246,839 in March 2017 to $265,000 in March 2018.
NEW HOME SALES
Newly-built single-family homes saw 1,647 closings in March, up 10% from 1,499 in March 2017. The total dollar value of single-family new homes closed in March was up 15% from $550 million in 2017 to $630 million in 2018. New townhouse / condo homes saw a huge increase of 56% from $62 million to $96 million.
The average sq. ft. of a new single family home in February was 2,361, down 3.1% from 2,437 in March 2017. The average sq. ft. of a non-distressed resale was 2,027, so new single-family homes are 16% larger on average than the existing homes that sold. For new-built townhouse / condos the average size was 25% larger than re-sales. The typical newly built condo or townhouse is far less affordable than the older stock of attached homes as a result.
The share (in dollars) for new homes in the single-family market moved slightly higher from 17.8% in March 2017 to 18.0% in March 2018.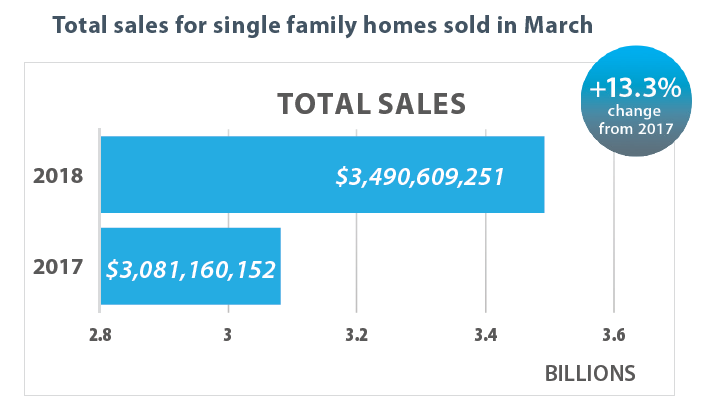 Total single family, townhouse & condo sales were up 4.5% in March from a year earlier (and March 2018 had 4.3% fewer working days). Single-family sales grew 4.2% and townhouse/ condo sales rose 6.5% compared to March 2017.
Single-family homes priced over $500,000 took 28% market share in dollars, up from 25% last year. There was a 22% increase in unit sales over $500,000 while average pricing rose by 5%. Entry level single family homes under $200,000 lost market share from 16% to 11%, primarily due to low supply. The mid range between $200,000 and $500,000 has robust demand and reasonable supply and grew market share from 59% to 61%.
Townhouse/condos priced over $500,000 grew their market share from 15% to 22% while those under $200,000 dropped from 39% to a 30% share of the attached market. The mid-range grew from 46% to a 47% share.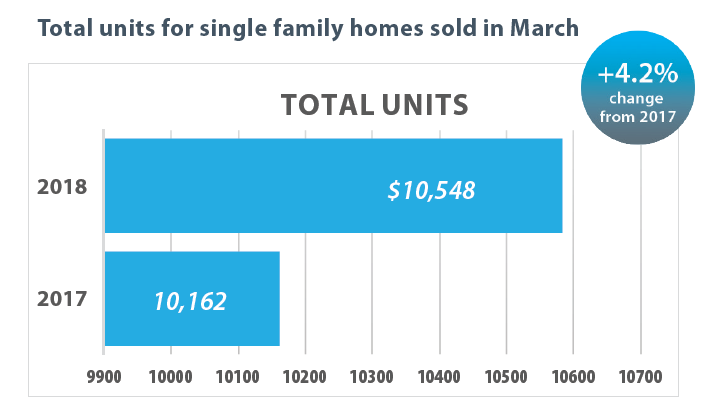 Numbers reflect single family homes only.
AVERAGE PRICE PER SQUARE FOOT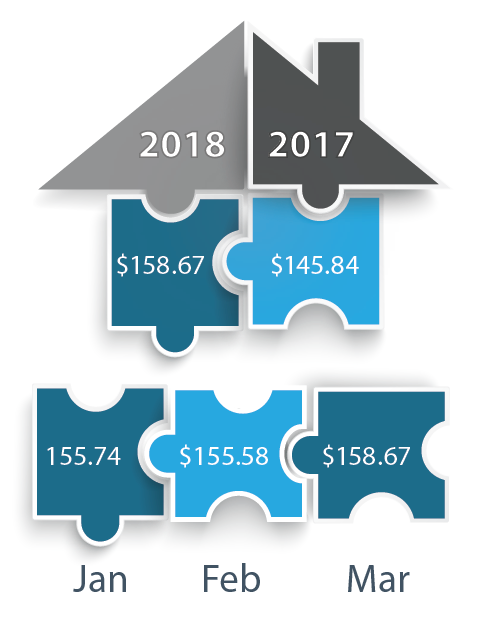 Average price per sq. ft. for single family homes
gained 8.8% from $145.84 in March 2017 to $158.67 in March 2018.
SUPPLY
The number of active single family listings without an existing contract was 12,890 for the Greater Phoenix area as of April 1, 2018. This is up 4.2% since March 1. The inventory of single family homes under $150,000 stands at 22 days, 13% lower than a year ago. Year to date on April 1, we have seen 1.9% fewer new listings created in 2018 than in 2017. Supply is very constrained below $250,000 and inadequate to meet demand up to about $600,000. Supply is good over $600,000 but below $1,500,000, but continues to fall compared with last year and and is becoming scarce in a few more popular areas. Supply is very plentiful over $1,500,000 except for new homes which are usually snapped up quickly. The strong increase in sales over $1,500,000 means excess inventory is on a downward trend.
CHANGES IN TRANSACTION MIX

We saw an increase in non-distressed transactions (up 5% over this time last year), with investor flips growing by a very strong 27% (mostly thanks to iBuyers). New home sales were up 10% compared with March 2017. Distressed transactions fell another 23%. We saw a 10% decrease in third party purchases at trustee sales and new notices of foreclosure remain at very low levels. Reversions to lenders decreased by 49%.

The Greater Phoenix housing market remains healthy and continues to heavily favor sellers over buyers. During March supply remained very weak compared to historic levels though we did see a demand slightly lower, probably affected by higher interest rates. There is still no evidence of bubble conditions, but the chronic supply shortage of affordable homes continues to create major problems for buyers and shows little sign of getting better. Shortages are especially severe in the Southeast Valley.
The following trends are now in effect:
Normal re-sale volume is still growing but low affordable supply is restricting low-end activity and likely to lead to restricted growth later in the year
Listings under contract are running at similar levels to last year
Investor flips are becoming a more significant part of the market as iBuyers like Opendoor and OfferPad gain market share. Zillow has announced that it will become a third iBuyer in Phoenix during the second quarter.
Attached homes are increasing their market share once again, particularly in high-end sales
The luxury market has much higher volume than last year and pricing momentum is starting to build after a weak period during the last 3 years.
Despite significantly higher interest rates, March remained strong for sales volumes and this suggests that buyers remain positive about the housing market. With supply still tighter than last year, we would expect continued increases in price unless something happens to disrupt this buyer enthusiasm. It would not be surprising if sales volume eased a little during 2018 as the lack of supply affects more price ranges and wider areas.

Data provided by: Michael Orr