Real Estate Marketing, Graphic Designers,
Online Graphic Design Tools and Printing
Services… all from one source. That's

REAL

TOOLS

.
REAL

TOOLS

is a simple, reliable way for real estate professionals to get the graphic design and printing services they need to effectively market themselves and their properties.
Postcards
Whether it's a "just listed" card, a "sold" card or any other direct targeted communication piece, we can help. Our designers are versed in what works and what doesn't. We can design a card that speaks clearly and concisely to your audience.
Flyers
Printed literature promoting a property is vital to getting the word out to interested parties. We can build a printed brochure or flyer that shows off your listing in it's best light.
Guidebook Publications
Clear Title offers several predesigned guidebook publications that can be personalized with your brand identity. These are value-added services that let your customers know that you are here to help them through the entire process of purchasing or selling their home.
Prospecting
Clear Title's database of residential addresses is comprehensive and constantly updated to provide the most accurate data possible. We also have a sophisticated data filtering system that allows us to customize a farm list that suits your marketing needs.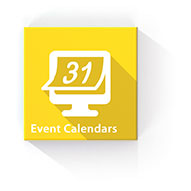 Monthly Event Calendars
Keep your network updated with the latest community events using our monthly local events calendar. These calendars include your contact information, headshot, and are designed to be sent directly to your network via email or for posting to social media.
Facebook Lead Generation
The power of Facebook is a great tool to promote new listings or drive traffic to an open house. We can work with you to deploy Facebook posts to your target audience that includes a built-in lead capture function.
Real Estate Professionals are busy. We know trying to coordinate all your marketing efforts can really pull your attention away from doing what you do best…selling real estate.
.
CLEAR TITLE HAS THE TOOLS YOU NEED
Our marketing team has been servicing our clients in the real estate market for years.
Our design staff is well versed in what visual cues will capture your audience. With our library of design templates, our designers can easily put your postcards, flyers, and guidebooks together so you can get the word out quickly.
PRINTING OPTIONS TO MEET YOUR NEEDS
No longer do you need to coordinate between the design staff and the printer. With REAL TOOLS, they work together seamlessly. Whether you want to reach an audience of 100 or 10,000, we can provide the right solution. Our print team knows when it's appropriate to print on our high-end duplication system or when it's best to print on commercial printing equipment. Either way, we can provide the right solution that gets the job done at the lowest possible price.